← Back
The elusive art of a morning routine
In the fantastic realm of wellness literature, morning routines have the same mystical aura as cult leaders, tarot readers, jazz clubs, and Jesus Christ. They pull me in with their promise to deliver me a new self, a dazzling self-assured self that has a grasp on things and glows with a belief in her true, eternal, and indestructible inner competence. 
Her ability to handle whatever life tosses in her direction. This is secretly, I think, why I'm obsessed with browsing the aisles of Healthy Planet, the natural health store a twenty minutes walk away from where I live. The endless neon rows of herbs and Eastern medicine are a powerful witch. I'm Gretel, and the distant thought of experiencing wholeness is the sugar-coated blue gumdrop that keeps me ploughing through the darkening woods. I'm always entranced. My eyes spin in my head like a merry-go-round. Lemongrass, black walnut, ashwagandha, fluoride-free toothpaste, coffee-alternatives. Crabapple, when taken in tincture form, promises to help me the fact that, in general, I often feel unattractive and undesirable even though people are always telling me otherwise. Boo hoo. 
Thirty drops of honeysuckle in my glass of water, taken daily, promises to help me with the fact that I'm unwilling to divorce myself from memories and hop happily into new days. I have a powerful will but that will works both ways. Not always to my benefit.
Last night in bed I was drunk only on sleep deprivation and started reading the book I ordered online: Nothing Good Can Come from This by Kristi Coulter. It's a collection of essays on sobriety which is a thought that intrigues me now that I'm doing this 30-days no alcohol thing. Mocktails seem sophisticated and almost chic but truthfully, the thought of never getting drunk ever again makes me nervous. Drunkenness is such a relief. I'll think more about that later. I'm enjoying the book but it feels like the true weight of whatever her grief was, when she was in the thick of it, is lessened due to her total dedication to remaining comedic and readable. Sometimes I want to hear a woman talk about the bleakness of her life with no lightness at all. 
I want her to believe in eventual lightness coming in, yes, belief is the beginning, but when it comes to expressing the grief as it was, I wish I could find, somewhere in the world, a pure delivery. I want a shot of what you've really got going on. It's a selfish request. It's not right for me to assume she's completely lying. I don't think she is. The truth is, I just want my own experience confirmed. I told my sister this and she replied, "Maybe you should be the person to confirm it." Self-authority is strange. I never even considered it. I think this honeydew melon vape pen is getting to my head.
I forget what page I was on, but there's a point in the book before the 80th page where she mentions possessing a "resentful persistence," a phrase that, when my eyes landed on it, felt like it was written for me. Felt like it was delivered from heaven. That's me. I am a resentfully persistent person. Even when there is nothing lit up within me and my glow feels lost in mental snow, I still try to do the bare minimum. I hear rain rumbling in the distance and I don't want to get all wet. So, I move.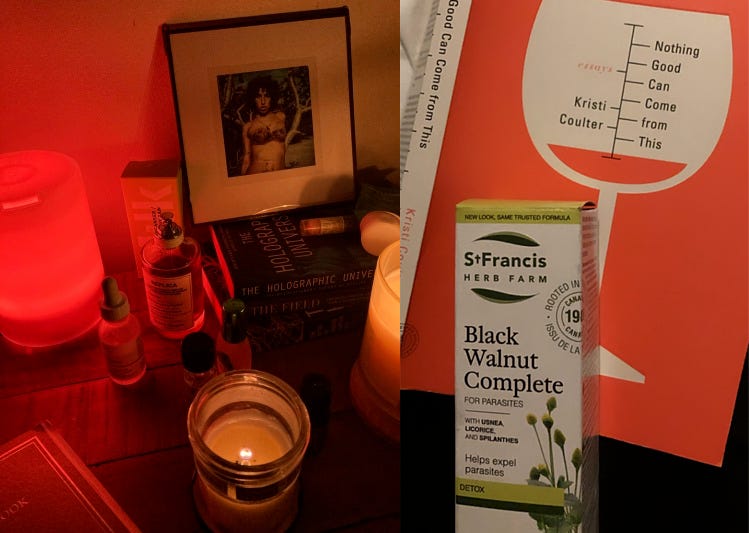 Taurus moon
My ability to plod forward is pretty and purely out of necessity. Some days.
Kali Uchis made a point
Spotify put together a Daily Wellness playlist for me this morning, a mix of podcasts, meditation music, and songs that the algorithm thinks I might like based on my listening history — Drake's "Jaded" and Sarah Maclauhlan's "Fallen" have been on a shared loop. The first song for today was "After the Storm" by Kali Uchis, with Bootsy Collins humming in the background and Tyler the Creator popping in for a verse.

Then the algorithm played "Toosie Slide" by Drake and sort of lost me.
I'm obsessed with closing my eyes
I'm not a natural at welcoming mornings. I'm better at bedtime. The quiet pool of melatonin dreams, cinnamon incense, turquoise silk — rest, escape, solitude. I'd like to get back to you tomorrow, if that's okay. I know, in your eyes, I must seem at least a little careless. If I could explain to you what's really going on with me I think you would understand and cut your losses. But I can't explain. It all sounds like excuses. I should be able to handle you, her, and the rest. I like when the laptop closes and I can retreat from the demands of the day. I like when the diffuser lamp is glowing red like sex, breathing lavender and rose. Bouncing into the brightness of a new day is not always a bounce for me. Sometimes it's a drag. It just requires such conviction. Optimism is just one perspective, it's the one I have to choose, but love of dreaming weighs my eyelids down even as sunlight crushes its way into the room, sweet and tangerine like the vitamin C tablets I'll dissolve into my 8am glass of water as soon as I can get a hold of this existence and get up, up, up. Here comes the world. Things to finish. Emails to parse through. Friends to get back to. God, the daily call to competence is so loud.
Intrusive thoughts
"Twice" by Little Dragon is a good song to listen to when you're doubting everything you've ever done in your life that was done in the name of your progression of self and your years-delayed effort at self-love. Was I wrong to block him? I hate to think of him fighting his demons all on his own, I don't think he knows how to handle the highs and low, low, lows of his own intensity. Was I wrong to slip out, to put my foot down, demand better, seek better, want better? Was I wrong to feel like I deserved better? TheHoodHealer posts a tweet on Instagram and it confuses me even more. Could I have gotten through to him, if I had been more patient, understanding, and willing to take his misdirected punches? Could I have been loved by him if I had been willing to suffer a little bit more in the mud he kept bringing in from outside? Is that what love is, endurance? I think of my parents, their twenty year tango that lit fires at the dinner table and infused the holidays with loneliness and dread. I think of the darkness he brought to my table. In a small and rare moment of self-belief, I think: I didn't want to eat that. I don't want to eat that.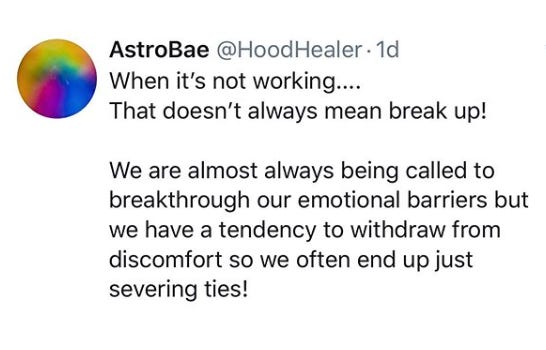 Morning bath
The shower expands into a bubble of steam. I need an eucalyptus bundle in here. I need to breathe in wellness, first thing. Aesthetics help me with my grasp. Beauty is grounding. Beauty makes me feel like I'm doing something for myself. I wash myself with basil lemon scented soap and a lime coloured loufah. The shower is like Planet of the Apes, a jungled rocky cliff. Endless mist. I melt into the edges of this in-between world. I'm up but not out. I want to sink into this space. I don't want to talk today. It's taken everything from me just getting here. Please understand. It used to be hard to get into the shower some days. Lately it's been harder to get out of it.
Skincare
Cerave face cleanser — green bottle
Witch hazel and lavender toner
Vitamin E, 100% pure
SPF 30
Reading diary entries from last December
Six months of silence and then you text me
"You were a positive influence on my life"
I was sunlight for you, hot citrus and laughter
You experienced me as a promise of something
I felt you latching onto your idea the same way
I latch onto my ideas and either way
I was dark rooms for myself, every hallway
opening up into another hopeless space
I could not love you from there, I was not there
I am glad you got from me what you could
Reading diary entries from last, last December
I was twenty-two. I wanted to give up. I wanted to walk in the snow and be loved by somebody. That was my problem. The vagueness of my desires. Who was this somebody? Where was I walking in this snow? It was the sensation I wanted, a mutated version of imagery I had dedicated myself to in childhood of what adult "life" must be. It wasn't him, although I allowed him to personify the sensations that I hunted after. Desire is prehistoric domain. My core self needed to be okay'd. I looked to him to do it. But I had no real direction for myself. What did I create with ambiguity? A misplaced trajectory. Everything was lop-sided. I walked in fog. I had never written a book. I called myself a writer because I had the inclination. But I would never tell that to anybody. My addiction was introspection. I was disillusioned by the subjectivity of my brilliance. I sometimes said things that fell flat on his ears. What if this is true to only me? Does it still mean something? Can it hold its weight? I was alone in the cave of myself. I maneuvered the tunnels. I was my own flashlight. I knew already how to move through the caves. My challenge was hitting the surface. Telling you I loved you, breathing in your warm air.
Wish I could un-dream dreaming and reinvent meaning in all of this…
I am not fine but I am still happening…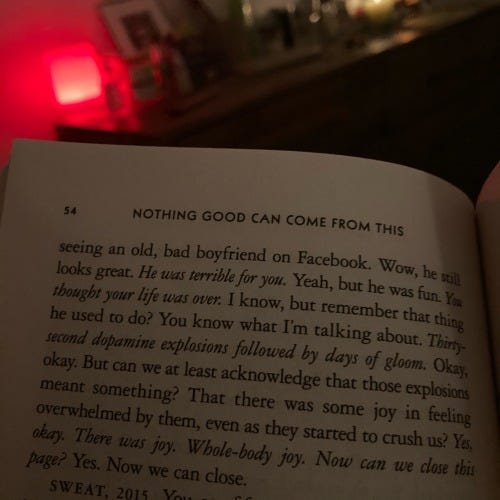 Coffee break
I take my coffee instant, black. I got a coffee maker two months ago from OJ but it broke and then, after two months of online window shopping for potential new coffee makers and coffee bean grinders and crème brûlée and Italian amaretto flavoured coffee from Java works, I decided to purchase a juicer instead of a new coffee maker because it's winter, I need lots of ginger, apple, lemon. Beets, I'll juice beets and celery and grapefruit and you see, you see. I have this perceived hole in my heart, but there is juice on the way. I'm taking the days as they come.